The search for the winner of the 2019 Africa Food Prize is on!
The USD 100,000 prize celebrates Africans who are taking control of the continent's agriculture agenda and changing the reality of farming in Africa from a struggle to survive to a business that thrives. It puts a bright spotlight on bold initiatives and technical innovations that can be replicated across the continent.
---
The DEADLINE to submit your nomination is Tuesday, May 14, 2019.
News & Updates
Follow the latest news and updates on Food in Africa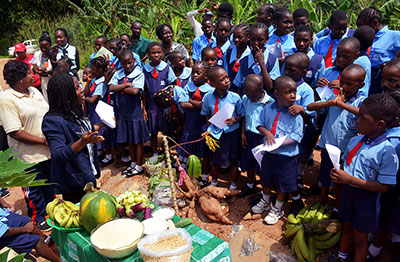 IITA initiates STEP to encourage participation of school children in agribusiness
At the 2018 Africa Food Prize (AFP) ceremony in Kigali, Rwanda, IITA Director General, Dr Nteranya Sangingareiterated his commitment to invest in the future of
Read more.
Boosting R&D Capacity for Sustainable Agriculture
Africa's over-reliance on external institutions is undermining the continent's capacity to strengthen agricultural research and development for improving the livelihoods of millions
Read more.
World Food Day: How IITA Is Addressing Food Security in Africa, by IITA Boss
Research outputs by Africa Food Prize winner, the International Institute of Tropical Agriculture (IITA), and its national partners are helping
Read more.